Self Enhancement Inc.
Public Mission Statement:
Working with schools, families, and partner community organizations, SEI provides support, guidance, and opportunities to achieve personal and academic success. SEI brings hope to individual young people and enhances the quality of community life. We remove barriers. We educate kids. We engage families. We improve communities.
Comment (optional):
SEI provides IDA to students enrolled in In-School or Post High programs.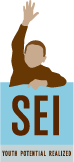 Main Address / Mailing Address:
County:
Clackamas
Multnomah
Washington
Contact Us
Tel: 503-537-0319
Fax: 503-537-0998
20508 SW Roy Rogers Rd. Suite 155 Sherwood, OR 97140