Diego Irwin
Diego Irwin shares his story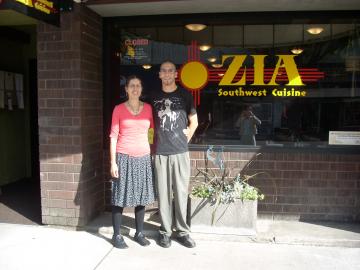 When ZIA Southwest Cuisine Restaurant opened its doors in downtown Corvallis, it was the culmination of many years of planning and hard work. Before opening the restaurant, co-owners Diego Irwin, his mother Kathleen Marie, and his brother Damian all took business classes through Willamette Neighborhood Housing Services' (WNHS) Linn-Benton MicroBusiness Program. This experience helped them realize it made more sense to start small rather than jump right into restaurant ownership. As Diego learned, "The whole process is about little steps."
The family decided to begin their venture by operating a burrito booth. They ran the booth regularly at the Saturday Farmers' Market in Corvallis. ZIA's unique fare, which combines Spanish colonial and Pueblo Indian cuisines, was well received. Their business doubled in one year, and the market manager approached them about expanding their operations to include the Wednesday Farmers' Market as well. These successes helped the family identify additional opportunities to increase their revenues by operating at local festivals where the customer base is much larger.
Diego enrolled in VIDA with the support of WNHS and had a goal to save money to purchase a second set of equipment. This equipment would allow ZIA to operate at two venues simultaneously. He also planned to purchase equipment which would mechanize some of ZIA's processes to keep up with customer demand.
Homemade flour tortillas are one of the distinctive offerings at ZIA. But hand rolling the dough is a time consuming task! Diego said that purchasing a dough rolling machine with his VIDA funds has been a key piece to the success of ZIA. Not only does it save time and increase output, Diego says, "We couldn't keep our sanity without it."
After two years of operating ZIA strictly as a burrito booth, the family was finally able to open the restaurant. Profits from the burrito booth provided the needed seed funds. The restaurant employs eight people and is committed to supporting other local businesses as evidenced through the Oregon farms and other suppliers of their freshest ingredients.
Diego attributes some ZIA's success to the support he and his family received through WNHS and VIDA. He felt the programs equipped his family to make better business decisions. "You just can't rush into things," Diego explained. "You've got to plan and not rush with your head down."
Contact Us
Tel: 503-537-0319
Fax: 503-537-0998
20508 SW Roy Rogers Rd. Suite 155 Sherwood, OR 97140